Winter League 2017-18
Winter League Leg 5 – February 2018 – Mill of Kellas, Moray
Another fine welcome at this excellent fishery on a cold day and it was snowing shortly after we started fishing and continued throughout the day.
Ali Morrison was first into a fish and all in all he had a cracking day. So after a really seriously drookit day at Mill of Kellas here are the current scores below. Everyone caught fish and "spirits" were high despite the weather - and however dreich and wet the four hours of fishing was, it was a whole lot better than later watching "as live" the recorded rugby from Cardiff - Wales were definitely playing rugby but for the life of me I didn't recognise the other team!
Congratulations to Alex Marks for biggest fish, and to Dave MacGregor - back in the top three on the day and top ten in the league! No change at the top three in the league – Lewis Ross , Neil MacRitchie and Okain MacLennan - though several in the top ten have biggish "no show" numbers to try to drop over the Achagour and Lagg final legs. It's getting really competitive.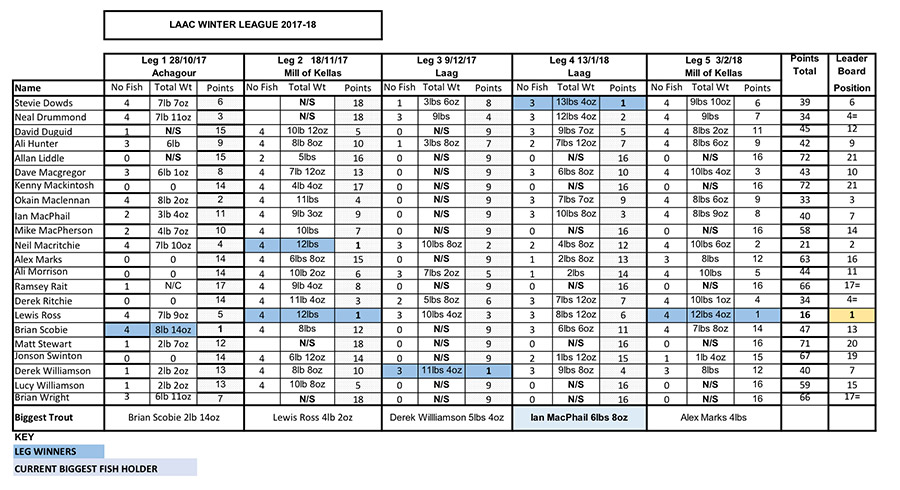 Winter League Leg 4- January 2018 – Lagg Fishery, NW Sutherland

Go West, when it's freezing here,
Go West, where the water's clear
Go West, where the fish await
Go West, Winter League is great!
Go West, to the lochs at Lagg
Go West, catch a heavy bag ........and so we did, leaving last Saturday 6.15am in 2C and frosty but merrily singing in the car all the way back to Lagg Fishery again - to fish the fifth leg of our winter competition for slightly bonkers trout anglers? Our scheduled venue Lochter was frozen.
A truly excellent turnout out numbered fifteen brave souls, most pictured here ready for the first cast - something reminding you of a fishing trip in "One Flew Over the Cuckoo's Nest" ???
Anyway, we were well rewarded, as everyone caught fish including a 6lbs plus rainbow which fell to Ian MacPhail - best left un-photographed that one - not Ian, the fish of course - which would definitely not have won any piscatorial beauty contests but nevertheless gave Ian biggest fish of the day and of the league so far!
Top rod for the day was club chairman Stevie Dowds of Errigal Lodge with three fish (two pictured below) for 13lbs 4oz ahead of second placed Neal Drummond with a bag exactly one pound lighter, and Lewis Ross and Derek Williamson not far behind. Change of leadership by the end of this leg saw Neil MacRitchie and Lewis swap places to second and first respectively, and club secretary Okain MacLennan hold on tenaciously to third spot with a pack on his heels! The current league result are pictured below.
Thanks to Tom Sharpe for hosting us again and for going out in the dark the night before to confirm that the lochs were in fact unfreezing so that we could head to bed early with alarms set for 5am. Well done everyone Involved!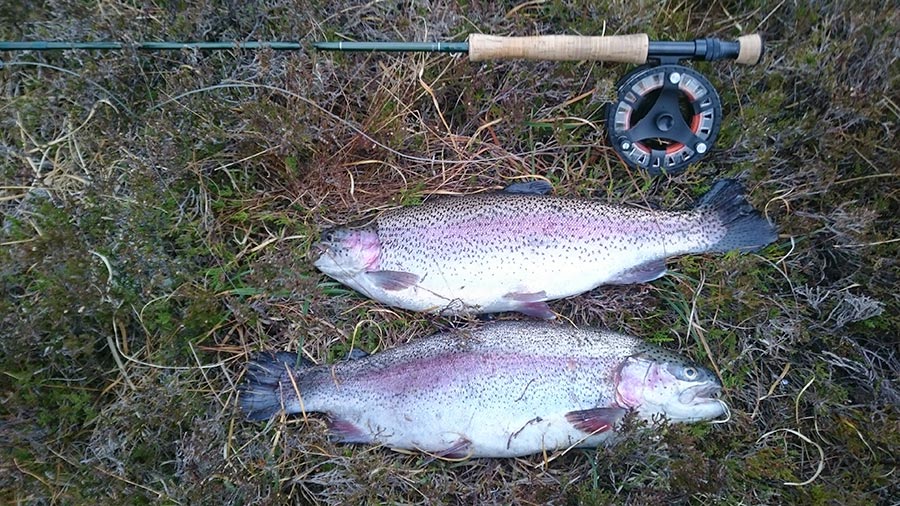 Epic Western Adventure! Winter League Leg 3 - December 2017 – Lagg Fishery, NW Sutherland.
Angling friend William MacKenzie posted to Facebook "you're off your trolley lads" and my wife texted from Sweden "you're completely nuts guys" but still we boldly went into a snowy wasteland, driving 3.5 plus hours from Fortrose, Nairn, Muir of Ord, Kiltarlity and the Strath to far off Clashnessie – determined to "enjoy" a day's fishing on the Lagg lochs. The photos tell the tale of a journey punctuated by huge numbers of stags at the roadside, unploughed and un-gritted roads and wind driven snow hampering casting as squalls threatened to blow us into the water. Several times on the way there we agreed that yes indeed we were mad, nuts, insane.
However, the fish were up for it, albeit lying deep down, and Ali Hunter was first into a fish within a few minutes of the start, quickly followed by Neal Drummond, with Neil MacRitchie not far behind as he stepped into a favourite spot of his and began to hook into good sixed rainbows. Derek Williamson landed a nice fish from the top loch before seeking slightly less wild weather in the lower loch – tactically a great decision as Derek accumulated a bag that was to give him a clean sweep win at the weigh in - including a cracking fish of 5lbs 4oz. Well done Derek! Ali Morrison and Derek Ritchie enjoyed good success on the lower loch while Stephen Dowds and Ali Hunter toiled to add more fish to their bags. Doggedly – and anxiously - Neil MacRitchie fished to the very end to complete a bag that took him into a very relieved second place. Lewis Ross – conscious of the fishing slowing down markedly had already "bagged up" before – only shortly later - hooking a great six pounds plus fish that by competition rules had to be returned safely to the water. Top three rods on the day were 1 Derek Williamson 11lbs 4oz (pictured below) ; 2 Neil MacRitchie 10lbs 8oz ; 3 Lewis Ross 10lbs 4oz; and so Neil heads into 2018 sitting clear at the top of the league.
The conditions hadn't improved greatly for the drive home – well done to the drivers – but all in all a great day out. As they say, some things are good when you stop! One wee ironic tailpiece – standing in the freezing 7am snow reviewing whether we should actually set out at all we decided that since one car (Davie MacGregor and co) had already set out and couldn't be contacted on the mobile phone, that it would be bad form not to follow. Mmmm – turned out they'd decided against it and gone back to bed!!!!
Next leg is on Saturday 6 January with a long journey to Old Meldrum in store and no doubt tropical conditions??? Some festive activities beckon meantime! Stephen Dowds, LAAC Chairman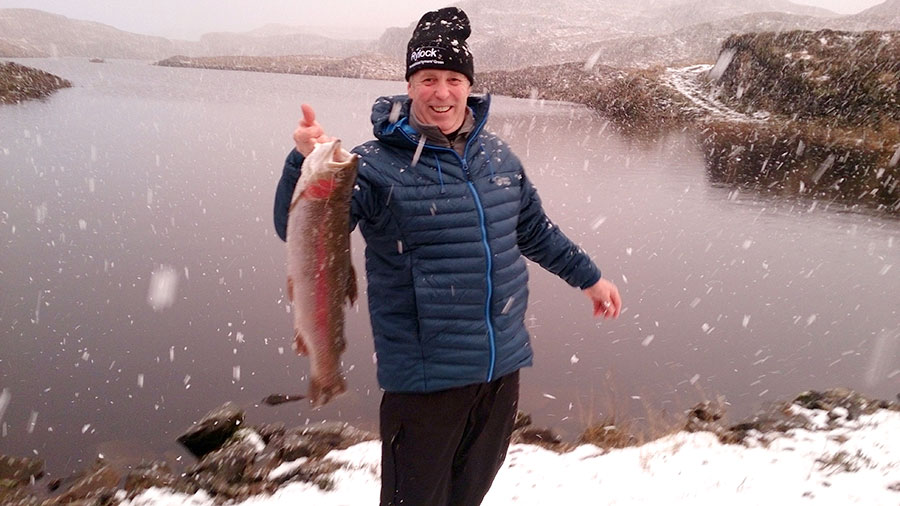 Winter League Leg 2 - November – Mill of Kellas, Moray
Excellent fishing and an even bigger turnout on Saturday at Mill of Kellas for the 2nd leg of our Winter League was the reward for adding this fishery onto our list of Winter League venues. . Again, we got a very warm welcome and a promise of lively fishing as Ed had stocked his lochs on the Friday. Two new contestants joined our merry band in the shape of David Duguid (Picaresque Books), Allan Liddle and good to see former Junior champion Ramsey Rait again - and great to have Lucy Williamson with us again and weighing in four cracking rainbows for 10lbs 8oz and the fourth heaviest bag of the day!
Top rod spot was shared this time by Neil MacRitchie and Lewis Ross , with both our heroes weighing in four fish for 12lbs exactly and then Derek Ritchie not far behind in third place with four for 11lbs 4oz. Only two legs in of seven but already a bit of a gap has opened up between the top three and the rest of the pack – Neil MacRitchie just clear in pole position with Lewis Ross and Okain MacLennan tied one point behind and all sitting at least eleven points clear of a bunched up hunting pack! Lewis' tactics on the day was one of his home tied affairs – pictured here – a cute little pink number - unweighted but fished on an intermediate line, and he stuck to that approach day. (You'll be wanting to borrow that pink flask next Lewis???) And finally a great wee parting gift from Mill of Kellas with sponsorship for the next leg's biggest fish prize where there will be a voucher for 6 hours C&R at this superb fishery. Many thanks! Stephen Dowds, LAAC Chairman
Winter League Leg 1 - October – Achagour Fish Ponds
The first leg at Achagour late in October brought some really tight results at the weigh in. On a tricky and very windy day, Brian Scobie took the largest fish sweepstake and the largest bag with a 2lb 14oz rainbow and total weight of 8lb 14oz. Club secretary, Okain MacLennan was in 2nd place with 8lbs 2oz; followed by Neal Drummond, Neil MacRitchie, Lewis Ross and Stephen Dowds who were only separated from 3rd to 6th place by a mere 4 ounces - from 7lbs 11oz to 7lbs 7oz!!! Tight competition indeed!
Good to see young anglers Ramsey Rait and Ben Gamble picking up fishing tackle vouchers on the day provided by Andy & Debbie at Dingwall Sports & Model Shop (Andy pictured below) ! Tight lines for Saturday, Stephen Dowds, Club Chairman
Winter League Final 2018
It's all going down to the final at Lagg on Saturday 17th March
As the results at Achagour brought two winter league members back into contention in the top four and prevented either of the two front runners taking unassailable leads into the last leg. Lewis Ross and Neil MacRitchie could have sealed it all up at Achagour but Stephen Dowds and Neal Drummond took first and second respectively.
Mr Ross in turn had a wretched day and did not "bag up" and Derek "Rainbow Warrior" Williamson had a really bad day too; Derek Ritchie who had two fish on the banking before many competitors had even cast a fly - then struggled to maintain his early success while Ali Morrison had another consistent performance to come in third.
Ally Hunter, Dave MacGregor and Brian Scobie all improved their positions but the scoring system can be cruel. Okain MacLennan – well placed before Achagour - made the mistake of not bagging up early and found the fish had taken a winter holiday on the bottom loch – dropping him out of contention. The table shows all the results to date and current Leader Board placings. Attention will now be focussed on everyone trying to sneak the largest fish of this winter away from Ian MacPhail – the pack are on your trail Ian - and Lagg's the place for monsters!
Mr Dowds' four fine fish gave him both top rod and the largest fish prize money on the day – a lucky wee white & yellow nomad fished ultra-slowly doing the trick. Mr MacRitchie's four allowed him to leapfrog Lewis by one point into leader position in the table.
So it's the third trip to North West Sutherland in this wintriest of recent winters – let's settle it at Lagg ! Tight Lines all.