2016 Competitions
Details of our 2016 competitions
Achonachie Members Competition 2016
They think it's all over ? It is now ........ and not just Scotland's hopes of qualifying for the 2018 football World Cup ???? Not at all, we've a lot more painful watching of Gordon's galloots before we crash out of yet another international tournament - but it is the end of the wild trout season and of the season for salmon & sea trout on the Achonachie club waters.
Our final competition of the season held on Loch Meig on Saturday 1st October saw one of the warmest, sunniest, calmest days of the entire season. Aye, just what you don't want and the fantastic head of fish in the loch went deep and dour for the entire day. Eighteen club members fished for eight hours and, despite deploying every legal fly fishing tactic known, weighed in only 16 brownies!
A challenging day indeed. However, unlike our sad football squad, we did enjoy International success - club member Achim Reisinger who came over from his home in Hofheim, Germany to fish the last week of our season and joined the competition. His one fish, a cracking 2lb 12oz brownie won the biggest fish category, pipping Neil MacRitchie's 2lb 6oz stocky.
Congratulations Achim, and also to Neal Drummond and Ali Hunter who weighed in five fish for just over 5lbs to take the best boat prize - and Neal's personal bag of five easily won top rod and for the second year running. The prizes were awarded after a fantastic meal provided by The Cottage Bar & Restaurant in Maryburgh, and even their kitchen ran out of wooden spoons for the many anglers who blanked completely on a day more suited to sunbathing than fishing! Ah well, that's fishing and we had some great craic nevertheless.
End of season maintenance is about to begin and here are some photos of the final day's fishing - with many thanks to all competitors over the year and especially to Lewis Ross, Competition Secretary for another wild trout season of competitions expertly organised. Best wishes to all and do join us for our competitions in the future - the more the merrier! Stevie Dowds, LAAC Chairman
Loch Fannich Junior Competition
Here's a great report from Lewis Ross - and some super photos from George Eccleson and Ali Morrison........Lewis writes "I must start off with an apology! having picked up the competitions from Dave (Who is still making remarkable progress), I almost let the junior comp to Fannich pass by unattended.
A frantic phone call to club chair Stevie Dowds, asking for his assistance in contacting juniors as I was in Skye! A slight error in the timing meant that it was clashing with Belladrum and the Moy game fair, but 5 juniors were able to attend.
The posy gathered in the Square in Strathpeffer for 08:00 and headed to the wilds of Fannich, a flat calm Loch Garve had everyone scratching at the thought of what awaited them, but on arriving at Fannich all fears of being picked to the bone by the Midgees were soon put to rest as a good 18 inch rolling wave push by a strong south wind. After chatting with the keeper we all headed further west a couple stopped at the two burns, we were going right to the top of the loch and the other 4x4 stopped between the wood and the nest.
All juniors bar one decided with to spin given the wind direction and strength, and it seemed to pay off for Connor and Danielle Eccleson as they kept catching and poor George was feeling the strain of de-hooking fish and resetting the lure, no sooner picking up his fly rod to be summoned again to unhook another, they were on form! Our pairings were finding it not so easy, a difficult wind made casting awkward, and a strict 10" limit for the seniors meant it was going to be a challenge. Neil Ross had 4 fish when we stopped for lunch and I had 3. After lunch Neil changed his lure and it seemed to have done the trick, so I followed suit and changed flies, and it too seems to have changed my catch rate.
With heavy rain forecast it was seemed prudent to shorten the day some and all agreed to be back for the weigh in for 4pm prompt. In our case leaving the loch side at 3 pm between the walk back to the jeep and the drive back we should be ok. Back at the keepers cottage all were back safe and sound. By then it had been a gentle rain for about 45 minutes and the wind was dying by the second!! Amid the swarms of midges everyone's fish were being weighed, with some very good bags of fish from the juniors, who certainly showed up their senior counterparts. The smell from the BBQ was beginning to whet the appetite , and head chef Michelle Rue JR (aka Ali Morrison) ably assisted Monica Galetti Not!! (aka Derick Williamson) were busy with the burgers and now a firm favourite the Iron Brew and Sweet chilli sausage supplied by Cockburns! What a feast - absolutely delicious!
When all were well fed and thirsts quenched it was time for the prizes to be awarded,
Top fly fisher -- Ben Gamble, who despite not weighing in a fish was the only Junior to persevere with the fly rod, well done Ben!
Biggest trout – Connor Eccleson a fine trout @ 12 oz
3rd – Danielle Eccleson with 9 fish for 3lb 7oz.
2nd – Connor Eccleson with 10 fish for 3lb 11oz.
1st – Neil Ross with 17 fish for 4 lb 13oz
Top pair --- Neil and Lewis Ross with 27 fish for 9lb 13 oz

A massive thank you to Fannich estates, Cockburns, Ruiraidh and Rachel and to the chefs. Thank to those that took their 4x4 vehicles. I hope all those that attended enjoyed the day
Cheers Lewis Ross.
Just a wee note to finish the heavens opened about 5pm just as we were leaving Fannich - a good weather call me thinks?
Connor Eccleson, Danielle Eccleson, Neil Ross and Lewis Ross enjoying success on the Juniors day out at Loch Fannich
---
Beauly AC Summer Invitation at Watten
"Waltzing Watten Waters" - thanks to our good neighbours from Beauly Angling Club for organising this competition on Loch Watten again this year - Achonachie club members were delighted to be there with you all on Saturday.
It was the fish that were doing the "waltzing" though - waltzing past our flies mostly whilst the light winds and warm overcast day provided as good fishing conditions as you'll get up there in Caithness? Cracking day out even though the fish were challenging - despite the excellent conditions and tremendous company!
Particular thanks to Neil MacKenzie for all his work in putting this together, Paul Pacey for warm welcome and raffle goodies and the always impeccably turned out Frankie Durdle for presenting the trophies. Those who blanked will live to fish another day and hoped they would avoid the top prize of more fishing days on Loch Watten?? Some should maybe have followed the clever idea of the bus driver to head away to fish off Wick Pier for the day and successfully bring home a bucket of mackerel!
Here's a few photos that capture the day - many good starts and fewer good finishes? Though Helmsdale chipper wins out on great fish suppers provided on the way home. Again - thanks Beauly Angling Club! Stevie Dowds, LAAC Chairman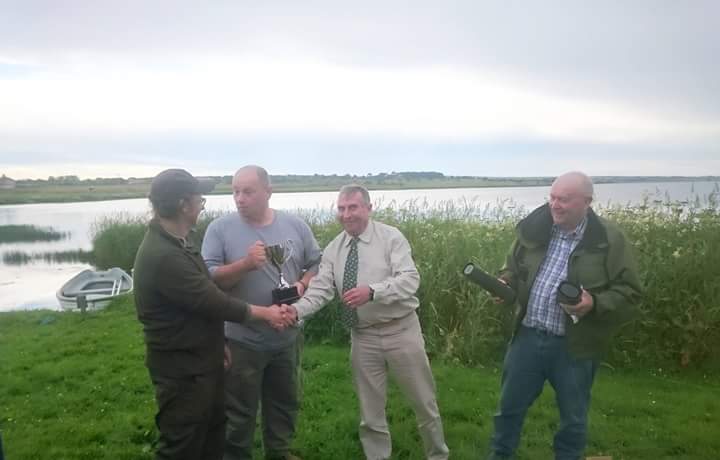 Winners 2016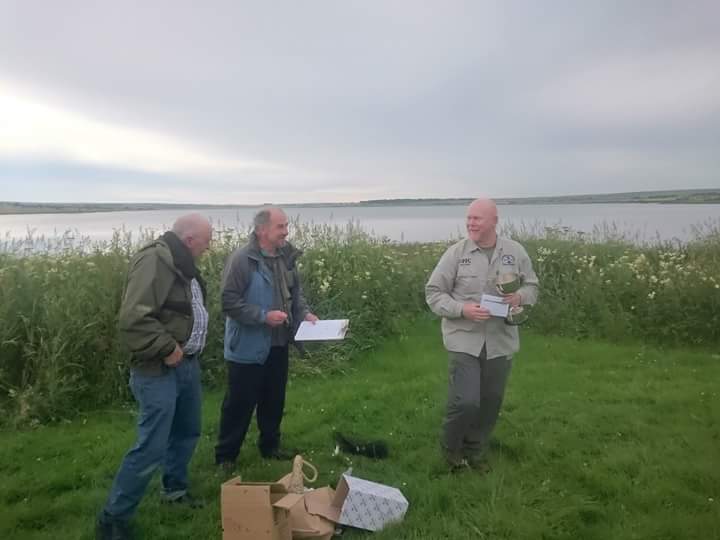 Allan Liddle - top rod for Achonachie AC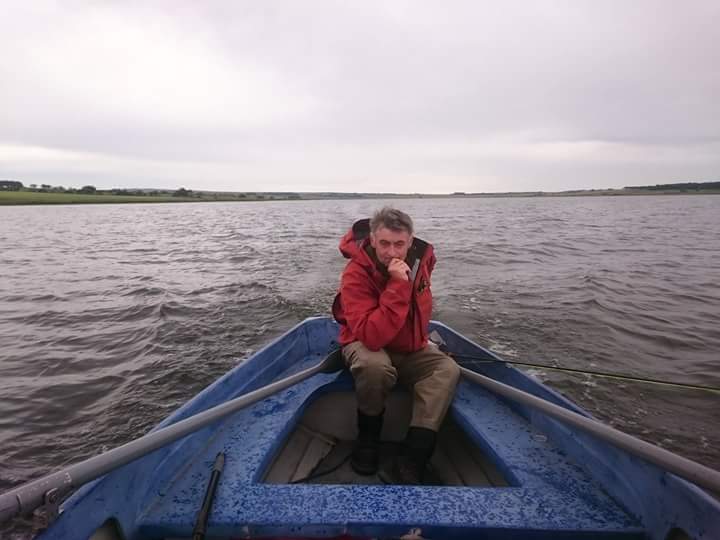 Lewis Ross - pondering what tactics to try next on a challenging day on Watten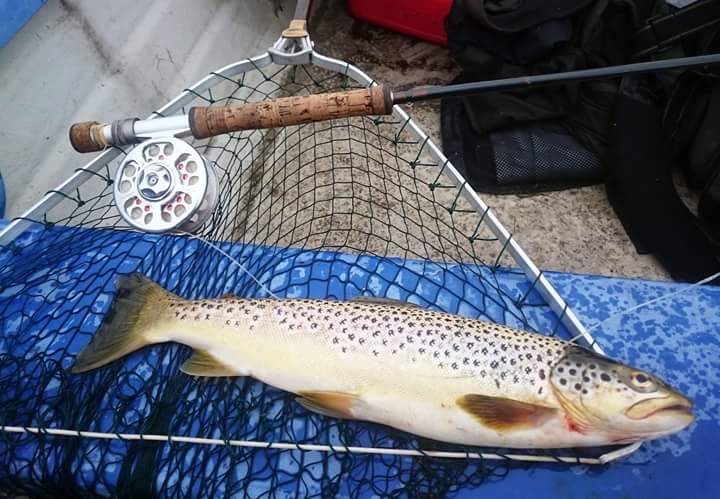 A fine Watten brownie caught by Achonachie Chairman Stephen Dowds
Skye All-Nighter 2016
Skye Victory Photo - yes, here at last is the photo of our heroes from the waters of the Storr Lochs - discernible pride in the faces of Ali Hunter & Lewis Ross as they receive the Duncan Urquhart Memorial trophy - if you haven't read their report it's in my post of 28 June.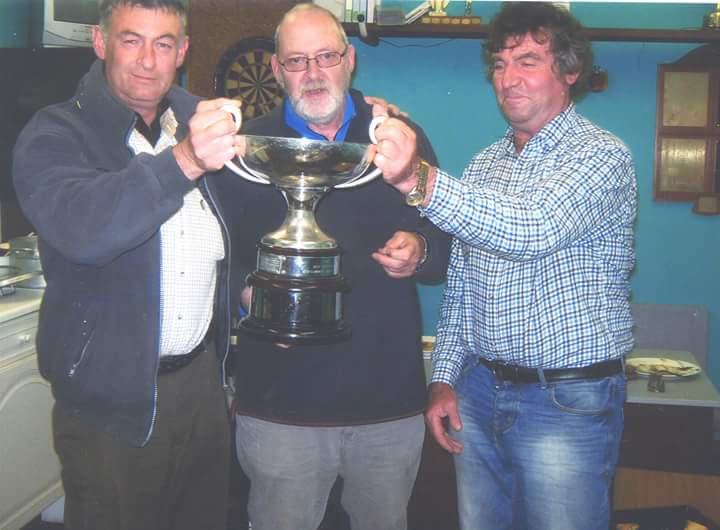 Lewis Ross and Ally Hunter with the winning trophy for Achonachie Angling Club after a successful midsummer's nights fishing on Storr Lochs.



Meig Open Report 2016
https://youtu.be/UFkRQeg4Mwo
You can click above for video on YouTube .....
The Meig Open was put back by 3 weeks this year in an attempt to find some better weather. Planning for better weather in Easter Ross is like forecasting spud yield in a 10 acre field, near impossible but you've got to give it a go. As it turned out nobody could have predicted the whacky day our intrepid band of heroes had on Meig. This year, 12 teams lined up on a very pleasant Saturday morning looking to have their name engraved on the William Bartlett trophy.
SGL were starting with the same squad that had won the previous year, and with captain Scobie barking out orders, confidence was high in the holders camp. The Skye boys were a wee bit late on the scene due to some torrential rain out west slowing their progress down. Nobody added 2 and 2 together and worked out that with a SW wind the rain would arrive with us sooner rather than later. After all of the pictures were taken and Davie MacGregor had explained the rules, the teams sped off, mostly to the shallower head of the loch.

At first, sport was brisk and Neil MacKenzie of Beauly A.C. had a keeper in the bag after only a couple of casts. Hamish Chisholm from Lairg A.C. quickly had a brace as did George Eccleson and Davie MacGregor of SGL. After approximately an hour and a half the sky out west started to darken and the first rain drops splashed on to the loch. Within 10 minutes a full scale monsoon had erupted, the rain battering the loch surface and the teams alike. Within no time, the river and all of the feeder burns were a brown torrent. With the rain bucketing down the sport rapidly tailed off as the loch started to rise. Some teams including the Loch Achonachie bog trotters headed off to the dam end looking for some inspiration.
Davie MacGregor somehow managed to winkle out another trout or two where all others struggled. By early afternoon the storm had passed but the damage had been done with sport now virtually non-existent in a still rapidly rising loch. Ian MacHardy had to rescue his Landrover Freelander after the water has climbed up to the wheel hubs and threatened to go in the back door. By 5'oclock the teams had had enough and most were glad to be back on shore, some looking forward to the weigh in, most looking forward to the pub. Portree A.C's Willie MacKintosh had a bonny trout of 2lb exactly, which was a shade bigger than North Uist's Donald MacDonald best. Davie MacGregor had managed to put together a bag of 7 fish to 4lb 9oz. Added to the 4 that Brian Scobie and George Eccleson put into the kitty meant that SGL had come top team for the second year running. In total the teams caught 30 trout to 23lb exactly. The full results are detailed in the tables on the club website.
The Skye boys were anxious to get home, so before they left the car park Stevie Dowds presented Willie MacKintosh with the Strathconon cup for the biggest trout. Back at the cottage bar, the winning team, SGL were duly presented William Bartlett trophy. Davie MacGregor had, for the second year running the best bag and was presented the Meig Cup. Our club chairman, Stevie Dowds, thanked everybody for coming, which, along with the craic makes the Meig open a special way to start our competition season. Tracy soon had the buffet in full swing and that apple tart was something else, our thanks go to her and all at the cottage for keeping us well fed. All too soon the teams headed off in the direction of home and with it another excellent competition on Loch Achonachie home water had come to a close.

Report - Davie MacGregor, Competitions Secretary
Video - Stevie Dowds, Chairman
Photos - Stevie Dowds & Ali Morrison